aboyne & Glen Tanar War memorial hall
Aboyne Community day will be on Saturday 1st July 10am to 10pm. The Victory Hall, Tennis and Bowling clubs will be open to the public and broad range of community groups will have stalls in the hall. See the full list of activities and timetable below to download.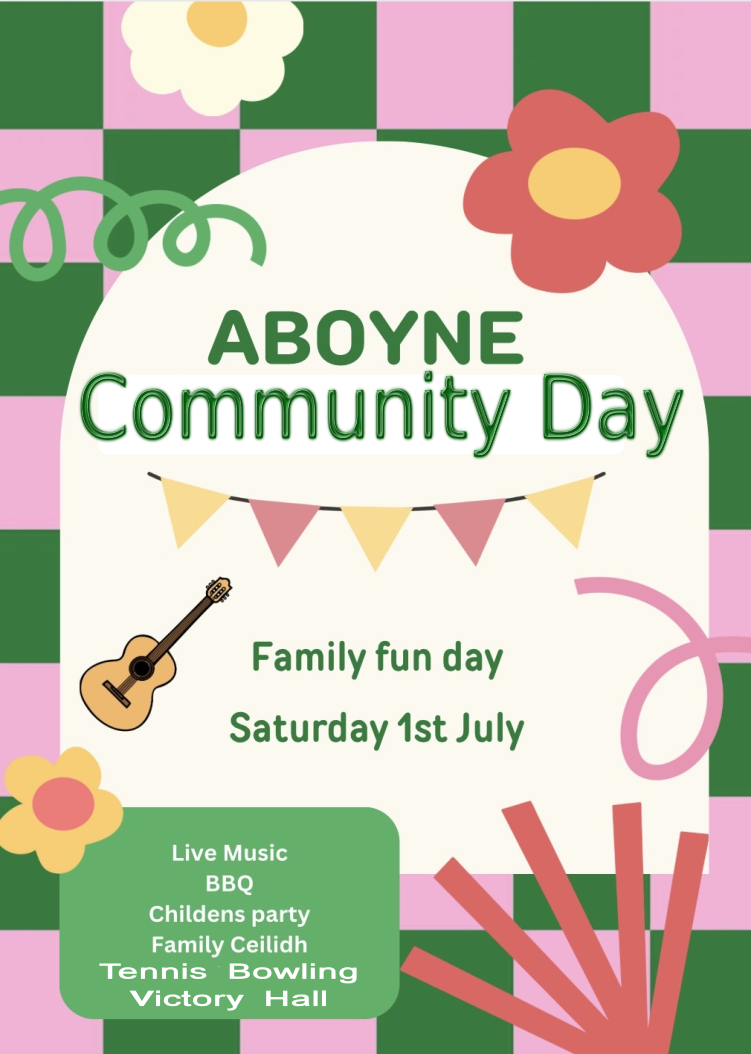 Victory Hall
9am to 4pm Upstairs Wellbeing, yoga and talks
Main hall & stage
10AM TO 2PM Fun for kids
Play area & toys
Beetle Drive
Green Screen Fun
Community cafe all day
Heritage Society
display and the story of education in Aboyne.
3PM Live music – Deeside Orchestra
4PM FAMILY CEILIDH
With Heeland Coup
Ceilidh Band
Bring your own
refreshments
7PM Community Ceilidh with Rock Band Bring your own bottle and nibbles Close 10pm ish
Close 10pm ish
Aboyne Tennis Club
Try tennis 2p to 4pm
Toddler soft  ball
Pickleball
Play a game
Drinks & refreshments
Drinks & refreshments
Learn more about activites for children.
Bowling Club
Try bowls
10-12noon
1-3pm
Just turn up to the club house for a warm welcome.
Community groups
A range of Aboyne community groups will have stalls in the hall.
Guided walk
11am & 2pm Join Anne Harper to learn about the origin of Aboyne and take a walk along the  Mills  O' Aboyne.
ArtAboyne Artist
Learn from a local artist
CIVIC engagement Formaston Room 9am to 5pm
Learn about our local commuinty plan
Displays from a range local community groups